Ryan Collins
Biography
23 April 2014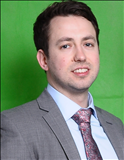 Since graduating from Queens University Belfast, Ryan has had the opportunity to work within many industries and sectors. He has developed an in-depth understanding of business through working within each business function; sales, marketing, operations management, finance, HR, environmental & quality management and procurement.
In a Project Management role as a 'Knowledge Transfer Partnership Associate' within the Mount Charles Catering Ltd and Belfast Metropolitan College Partnership, amongst other duties, this role gave him the opportunity to lead the development, implementation and ongoing management of an Integrated Quality & Environmental Management System certified to ISO 9001 & ISO 14001 standards within a multi-site, multi-service environment.
The impacts that he has made through delivering various business improvement projects was recognised by the Chartered Management Institute. For over 10 years, he has been awarded 'Chartered Manager' status for showing commitment to his ongoing professional development and achieving significant commercial impact and cultural change within his working life.
In May 2011 Ryan set up New Paradigm Consulting. Since inception, as the Principal Consultant, he has been involved with various projects relating to the implementation and on-going management of ISO / AS compliant management systems within many different industries and sectors including; aerospace, food manufacture, construction, general engineering and metal fabrication and soft services. He specialises in the following standards; ISO 9001 : 2015, ISO 14001 : 2015, ISO 45001 : 2018, AS 9100 Rev D, ISO 27001 : 2013 and ISO 50001 : 2018. Further to this, he has been sub-contracted by international organisations to provide auditing services within the UK, Republic of Ireland and American markets.
To review Ryan's experience in more detail, please check out his LinkedIn page
On a more personal note, Ryan enjoys spending time with the family, snowboarding, playing football (when not injured) and is an avid Bolton Wanderers supporter……. for his sins!